Company Brief

We, House Of Safety, as our name suggests, are here to cover all your safety needs, especially when you work in high risk operations. From work wear safety products, Covid essentials to various other protective goods, we as a distributor and supplier have a vast product stock covering different varieties of Safety Net, Construction Safety Net, Braide net, and Sports net, Disposable PPE Kit, Covid-19 PPE Kit, Face Shield, Cryo Boiler Suit, Reflective Vest, Marine Flotopump, Cotton Knitted Gloves, and more. One can choose from our large variety of vests, head, eye and ear hearing protection, face shields, etc., as we have products in different sizes and specifications. We stock branded products of Udyogi Safety and Unicare Safety, which are reputed names having track record of timeliness and zero compromise on product quality. We also have broad expertise as a service provider of Safety Net Installation, Safety Audits Service, and Safety Consultation Service.
Our Associates & Partners
We associate with leaders like Udyogi Safety that has worldwide presence today and has been bringing the best of personal protective equipment to India since 1982. Disposable PPE Kits and Reusable Gloves are some of the hottest selling products of this manufacturing company. We also join hands with another trusted leader, Unicare Safety, known for its manufacturing excellence in Fall Protection and Height Safety solutions. The company collaborates with industry leaders like UVEX, SAVOX, etc., and has been bringing the best of tailor made solutions to the Indian safety segment since 1981.
Why Choose Us?
Since inception, we have been truly focused on providing consistent quality safety products backed with exceptional audits service, consultation service, and more. All our endeavours have been fruitful so far owing to the following USPs we boast of in our service domain:
Our culture and commitment is driven by safety and profitability of our patrons and associates
We value our customer relationships and always work to deliver reliable outcomes with our association
We subscribe to quality standards and make available Disposable PPE Kit, Cryo Boiler Suit, Face Shield, Reflective Vest, etc., that also align with evolving customer demands
Our business approach reflects our commitment to ethics and integrity
We actively listen to client demands, queries, and grievances and timely resolve all problems to assure their optimal satisfaction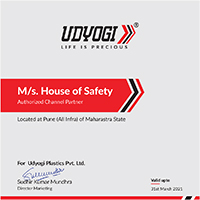 Read More